We are excited to invite you to our second virtual conference beginning Saturday September 17, 2022. The conference theme this year is Mind-Body Connection: Frontiers in Hand Rehabilitation.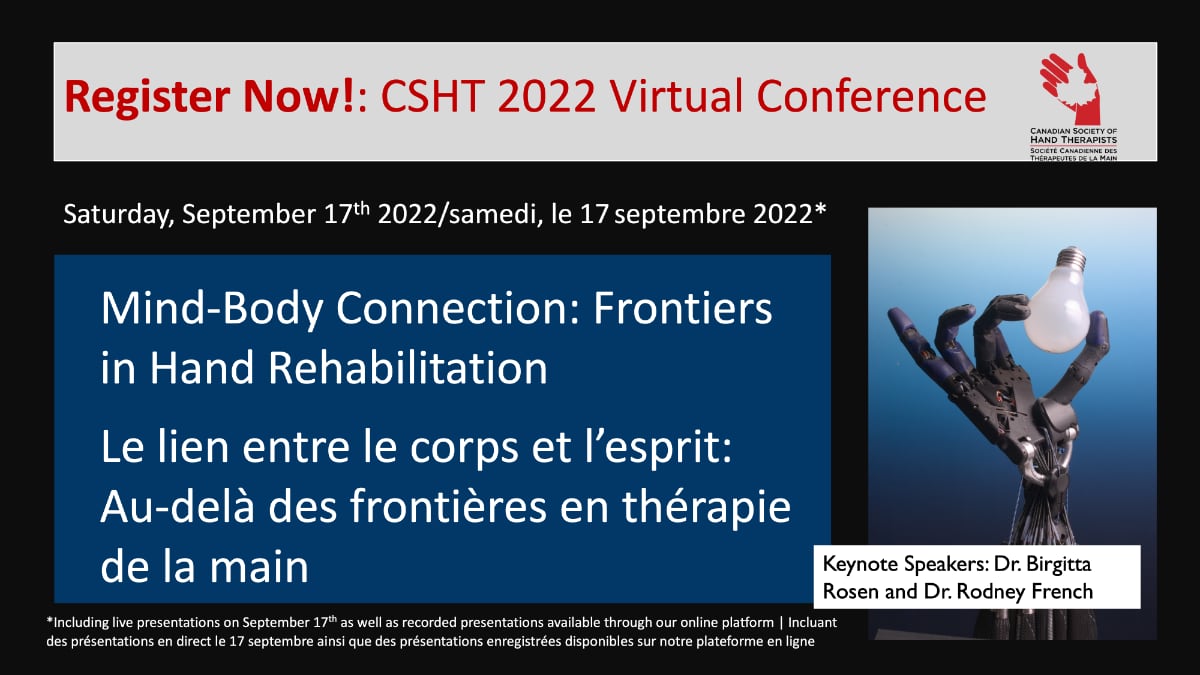 Early Bird Deadline:
August 31, 2022
Cancellation Fee: A full refund minus a $100 administration fee is available prior to September 5, 2022. No refunds available after September 7, 2022
The Conference will include:
Live synchronous sessions on September 17th with 6-month access to on-demand instructional sessions
An estimated 20+ hours of total content eligible for HTCC Contact Hours for Category A. Downloadable certificates will be available*
Opening keynotes will be presented by Birgitta Rosen and Dr. Rodney French
On-demand sessions from Ann Poretto-Loehrke, Shrikant Chinchalker, Brocha Stern, Dr. Sylvain Guimond, Mark Hardison, and Dr. Chao Long among others – with several sessions offered in both French and English
*American attendees please note: Due to differing standards for each state, attendees are advised to check with their local state licensing board. CSHT believes the quality of our program meets the highest standards and should be accepted by most state licensure boards.
Please forward any questions to:
Amanda Higgins
CSHT Secretary
2022conference@csht.org
---